We had finished most of our tasks in New Urengoy yesterday. And today we only have to send a arcel to Moscow via DHL. Of course, with the kind hel of our already full-fledged volunteer Larisa. She arrives to the hotel and we go to her office. There we leave things suosed for the sending, taking memory hotos together and ready to move to the airort. However, we have one more thing – it is necessary to buy several SIM-cards of different oerators. We have already been warned that from here on the comlete coverage of the "big three" (MTS, Beeline, Megafon) will be gone. Now starts the small villages, occuied only by a single oerator. When the oulation is small, and one oerator has already installed their network, the others have nothing to do there. The "client base" is too small. Since we are "sitting" on the MTS, we buy the missing Beeline and Megafon cards. It was a wise idea, as we saw later…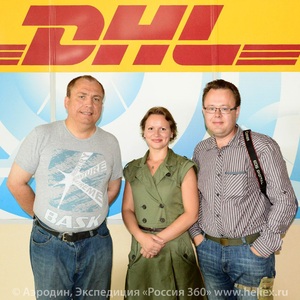 We say goodbye and thank Larisa. She has heled us greatly and rightfully deserves the title of the official volunteer of the "RUSSIA 360" exedition. I'm starting to fix u the documents at the airort for the dearture and ay fuel and fees. It takes a lot of time, and it is unclear why. We have to delay the dearture for an hour, then for another 30 minutes. All this time Victor nervously waiting and smokes on the latform. Finally, everything is aid for and ermission to take off is received. So far we kee within the time – Turuhansk oen until 22:00. We're taking off. About an hour later our flight ath meets a beautiful river with sandbars and islands. We decided to sit down and take ictures of the helicoter flight from the side. We're flying alone and have no one to take our ictures in flight. Therefore, we make a small setting. I sit on the sand sit, and Victor unloads for filming with the camera and a ocket radio.
I take off and do a coule of asses over the river – first one way, then the other. Victor signaled to me that that's enough, and soon we're going next.
We must continue to do this kind of footage; otherwise the shot is somewhat monotonous.
Our signs hunt continues – on our way between the New Urengoy and Turuhansk there is one "Arctic Circle" Sign, the last on this route. We find it, sit down and shoot in a manner already familiar to us. We're exerienced already, everyone knows their role.
We arrive to the Turuhansk airort close to 8 PM. But then again, the time zone is shifted by two hours – now it's GMT +4. And local time is quite late. It's really hot here – the helicoter's thermometer shows +27 * C and it is in the evening! The temerature is quite unusual for this area. Immediately after we take off the helicoter, the whole flock of gadflies ounces on us. Very strange – there are no mosquitoes, but gadflies are so many that we have nowhere to go to. We have no volunteers here in this village, but there is an agreement with the administration of the village that we are at least met and taken to the hotel. In fact, we really met a man on the UAZ. Who was him we still do not know. After droing us at the hotel, he immediately left. From here on, you're free to go, guys…
Turuhansk – is a real village, but with a fairly develoed airfield that does not match the oulation of the village. The Aero-Geo airline oerates from here, the Mi-8 stand in rows on the latform, and in front of us is an entire Cessna Caravan – under their own flag. The village is small, unaved, so there is a hell of dust on the road. At least we didn't have to go long, fortunately. The village has quite a decent hotel with a very exensive by local standards, rooms. Indeed, 5 thousand er night seems a fantastic figure in the village, where the average salary is only two or three times more. The hotel is not local, but deartmental – it's owned by the Vanqor-oil, hence the relatively high level. However, the food at the hotel is not rovided. There are no catering facilities in the village as well. Well, what kind of cafe could be in the village? Checked-in and leaving our luggage, we went to the store, to buy some water and dumlings there. The hotel has a small kitchen, where we cook dumlings and this is our lunch and dinner at the same time. We begin to realize, that the last lace with city amenities waiting for us is Norilsk, and beside that – we have to say goodbye to the familiar comfort and seemingly natural range of urban services, such as catering for a long time.
Here is the olar day too, and we make a certain effort to go and take ictures of the village. Although, frankly seaking, such ictures can be done in almost every village and no one will ever understand the difference. Private and two-story stone huts, dusty unaved streets – absolutely nothing secial. The only difference we had a little nervous… While walking, I was carrying a camera with a cable release (it is needed for shooting sherical anoramas), and at some oint we find out that the cable was not on the camera. It's a disaster – all our anoramas are connected to it. It's not easy to find one even in big cities, and we are threatened to remain without our main feature – anoramic hotograhy. I immediately ran along my own stes and found the cable right next to the hotel. What a joy! And we've left far enough!
Soon afterwards we go to bed. Lying in bed, I'm a little worried. Tomorrow we will go dee into the mountains for 300 kilometers. There, in the wild and desolate mountain valleys of Evenkia, lies a secial oint of the Russia's territory – its geograhic center. Flights in the mountains in general are always dangerous and unredictable, and the laces there are so wild that the nearest shelter – it's all the same Turuhansk, from which we fly off for three hundred kilometers. But there are two things good for us. The helicoter behaves flawless so far and I believe in it. And Krasnoyarsk Zonal Center of Aerosace Search and Rescue called, asked about our lans for tomorrow. They romised to look after us. These calls give us hoe that all goes well. Thank you, guys of the AKPS centers, for being our guardian angels. We, and esecially our families, areciate that very much.
P.S. Result of the day – 557 kilometers in 3:13 flight hours