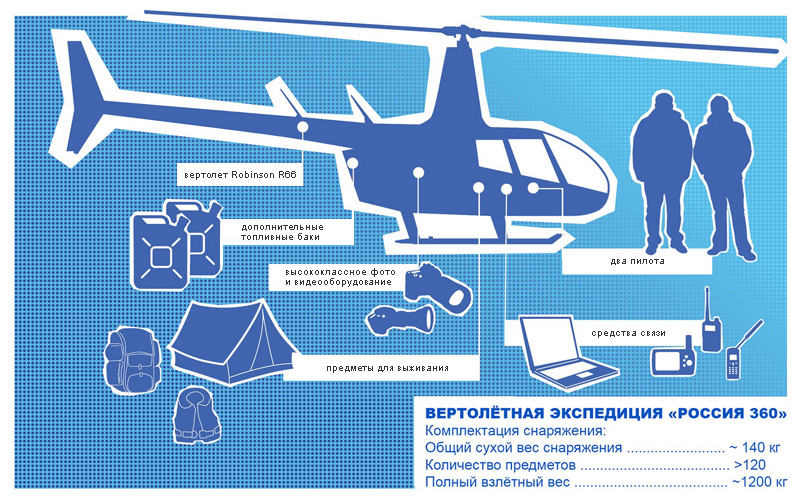 Long distance flight on light-weighted aircraft is a hard and risky challenge. The main part of the 30.000 km route runs over the wasted, uninhabited, less-accessible areas of polar north, Siberia and Kamchatka. That's why equipment for the adventure was chosen especially carefully and thoroughly. Only the top-quality equipment from the trusted and well-known suppliers was chosen.
Another problem for choosing the equipment was weight-limit of the air-craft, combined with the extreme length of the route. We have to be very careful with the fuel consumption rate, which has directly connection with the total weight of the equipment. Precious fuel must be saved in order to be able to reach the next fuel station.
But if the flight crew will have a forced landing in the uninhabited area (which is the biggest part of the flying route), they will need special equipment and survival kits – to be able to survive until the evacuation arrives. And that might take time.
Despite all the troubles and dangers the expedition might face, it would be a waste of time not to have pictures and video of the natural landscapes, places and people we are to visit. "RUSSIA 360" isn't a set TV-show, serviced and maintained by the group of professional operators and photographers, in the preset environment. It's a single-vehicle extremely dangerous flight – real challenge for real men!
However, thanks to the modern equipment and special training, our flying crew went through, we have an opportunity to make a hi-res videos and photos, relying on our own strength and skills only.
Expedition equipment might be divided into several groups:
Clothes and footwear
Even during summer, polar north is cold and windy area. That's why our crew will have several sets of clothing for several different climate zones: arctic, subarctic, and temperate. Summer time in Siberia and polar north is impossible to imagine without volley of mosquitoes. Our crew will also have special anti-mosquitoes net for protection.
Survival kit
Our survival kit includes set of emergency tools, such as tent and sleeping-bags, cooking equipment, packed lunches, weapon, smoke and rocket signals, tools, mountaineer equipment, etc.
Communication equipment
Our crew is planning to take pictures and run a blog during all the time of their expedition. Cell phone isn't an option. For uploading foto and video we need Internet. Unfortunately, even satellite systems have bleaches on their coverage zones, and we can't be sure we will always be on-line. But we will try and find every single opportunity to share our experience with you. We will do whatever is possible to have the maximum public attention for this expedition.
Foto and video equipment
To make sure we will have a top-quality foto and video of the expedition, and to prepare materials for the after-expedition films, we will use only professional foto and video equipment, including equipment for special kinds of video: time-lapse filming, speed-up filming, slow-down filming, panoramic and spherically vacuum filming.